Ganga – Tête-à-Tête Opera Festival
Ganga
Tête-à-Tête Opera Festival
Cockpit Theatre, London
31 August 2022
Reviewed by Richard Cassell
 
The Tête-à-Tête festival of new opera presented a fascinating fragment of a new chamber opera by Jataneel Banerjee.  The story is based on legends of the Mahabharata by Veda Vyasa and the Atharvaveda and features the eponymous goddess Ganga and the sages who will be born to her, to be drowned. The work is based firmly in the Sanskrit tradition and indeed is performed in Sanskrit but by Western singers and in a fairly Western influenced musical tradition.  It represents an honourable combination of cultural traditions that should offer a Western musical audience access to Indian legends; there is after all a long tradition of Greek myths in Western opera. This reviewer would have benefited from rather more explanation about the story; and eventually surtitles or more of a synopsis would be handy – possibly even the libretto in English.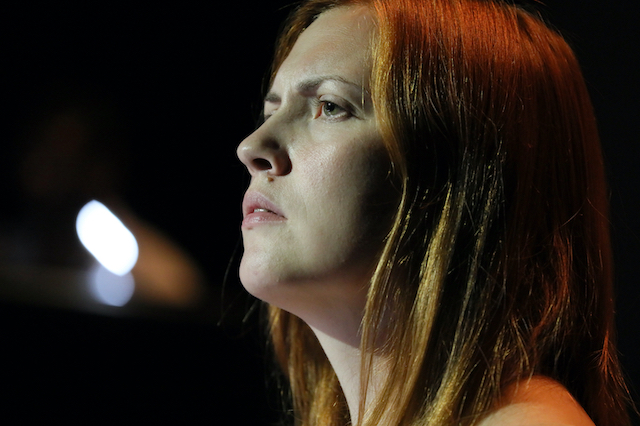 The performers were truly excellent and the soprano, Magdalena Maria Herfurtner, in the lead role, showed a strong ability to bring out the drama while retaining the shape of the songs.  The tenor, Jonathan Cooke, was faced with a feat of endurance in the opening scene-setting pieces and at times displayed great lyricism.  At some points in the beginning there was a build up to a climax which meant Cooke was required to shout rather than being fully supported by the music.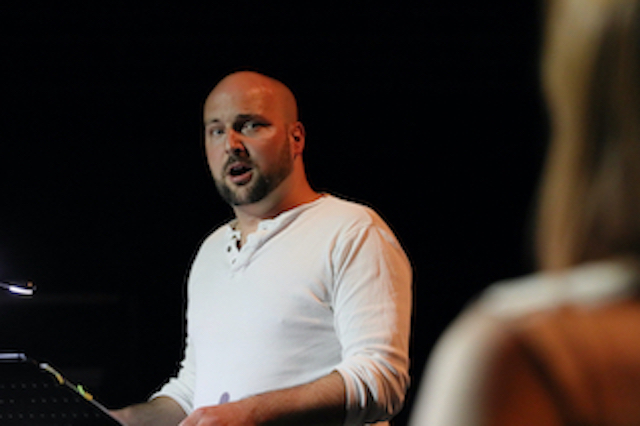 The instrumentalists – pianist Kausikan Rajeshkumar, violinist Aritra Bhattacharya, and cellist Michael Hyman – were excellent and showed great aplomb in maintaining a steady backing or continuo with occasional virtuoso moments.  I would have liked to hear more from them as this could have varied the similarity of the overall sound throughout.  
Some of the earlier songs achieved lovely rippling effect with subtle orchestration and sympathetic singing particularly in the song, 'Please deliver us…'.  However, I was expecting more of a climax – perhaps a duet – which never quite came.  However, the song 'I thought so too' was truly charming and built to a good climax with excellent combinations between instrumentalists and singers.  Overall there seemed to be too great an emphasis on recitative – the Sanskrit invocations felt a little long in the context – and it would have offered greater excitement with more arias and choruses.  The song 'Each contribute one eighth' did build to a satisfying aria.

The music showed a syncretic absorption of different traditions from Handel to Vaughan Williams with strong South Asian overtones: potentially a fascinating genre which, based on this fragment, did not quite achieve its potential.  It is tough to reach a conclusion based on an early fragment but this reviewer rather agreed with at least two audience members whose adjectives included 'pleasant' and 'a bit monotonous'.  I hope that the composer uses his evident talents to build more excitement as the work progresses.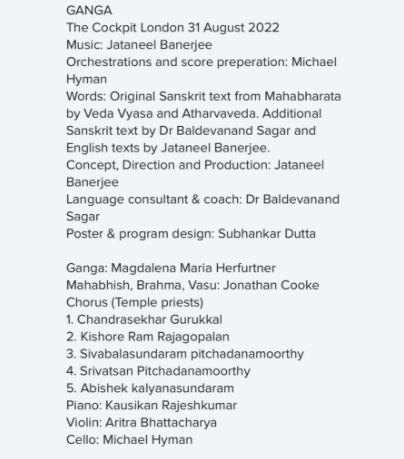 The Tête-à-Tête Opera Festival continues this month.
Richard Cassell is a life-long opera-goer and music lover.