Insta Stars – Saloni Saraf
A new series that focuses on dancers who have built large followings on Instagram. What lies behind this success?  Do followers translate into audiences and sources of revenue?  These are some of the issues Sanjeevini Dutta probes with the 'Insta Star'  Saloni Saraf.
Saloni Saraf is an attractive, lively twenty-six year old who is following her twin passions of dance and visual journalism. She is of the Insta generation – she  downloaded the Instagram app whilst doing her Baccalaureate in a boarding school near Pune, India, around seven years ago. She laughs, 'I was using it to edit images, I had no idea that when I was uploading photos of my friends and classmates these images were visible on a public platform'. She quickly made it a private account.
Saloni and dance
As a young child growing up in North London, Saloni remembers being 'thrown into' a kathak class at Sangam community centre in Edgware. From a local class she went on to train with Gauri Sharma Tripathi at Patidar Samaj in Wembley. She loved being part of the large ensemble of dancers:  'I feed off the energy of others'. She felt comfortable and safe blending in, she remembers. It was only in 2019 (under Sujata Banerjee) when she won first prize in the Navadal competition in the Under 25 category for the solo she performed with such gusto and abandon that Saloni felt completely confident as a soloist. 

After her teacher returned to India, she and most of the students transferred to Sujata Banerjee.' I admire her attention to detail and her understanding of body anatomy. I was lucky to get the perfect balance of the two teachers – energy and performative aura from one and the precision from the other'. Of course attending dance classes proceeded alongside school and school-based activities. Saloni attended the prestigious independent girls' school, South Hampstead High, transferring to Mahindra United World College (MUWCI) in India for the 16-18 years. She was always 'mad about taking pictures' and became the unofficial photographer of the class. 'I am a very visual person', she declares.

Following her Baccalaureate, Saloni joined University of the Arts London to do a BA in Journalism. With the rise of digital journalism, Saloni was in the right place to hone her skills in photography and video making and editing. Her student documentary The Saffron Republic, which explores the death of three journalists critical of the Modi government stirred the ire of Hindutva supporters on social media. 

Saloni and Insta
Saloni has however embraced Instagram with relish, 'I have discovered artists – dancers, musicians, painters on the platform; I keep in touch with friends, I get to put out who I am, what sort of life I have beyond my public profile as a kathak dancer'. Saloni has an easy and casual relationship with the Insta account – postings are spontaneous, there is no master plan. She is at the same time aware that Instagram is a tool for telling the sector that she is available for work, that she is, for instance, currently half-way through her Playground tour, produced by The Place – she is doing a duet with Jaina Modasia choreographed by Pagrav Dance Company.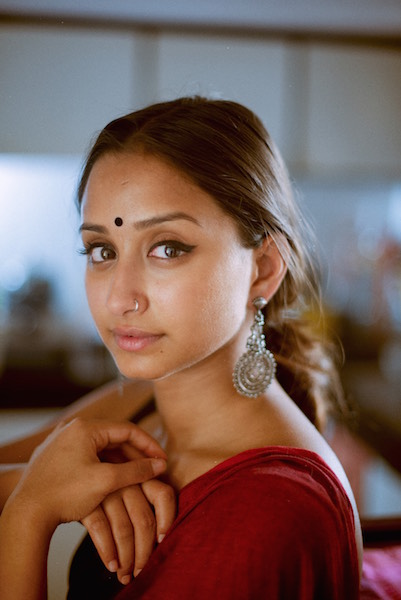 'In dance, we don't have agents, so Insta has to stand in for that. It's different for actors – my brother for instance [Shubham Saraf who acted as Godse in the recent National Theatre production] does not touch social media, he has an agent, so he doesn't need to.'

Navigating between personal and professional life, Saloni feels completely at home. 'It's probably my most authentic self', she declares. Saloni has built up her following organically. In fact the surge in follower numbers occurred in 2020, just as the world was going into Covid lock-down. A group bridesmaids' dance recorded on her mobile at a mehendi ceremony in India and shared on Instagram went viral and overnight her follower numbers doubled from 6K to 12K. This happened in a month when she had removed  the Insta app from her mobile (she does this from time-to-time to reassess, though keeping the account open), so it came as a huge surprise to her when she went into her account.

Saloni has not looked back. Her following has now reached 16 K which for a classical Indian dancer is BIG! Has she had any financial benefits from it? Saloni is very clear that she would  not lend her name to any brand that she cannot support ethically or that does not represent who she is. The first endorsement she accepted was from a travel brand that wanted to play on the nostalgia of second generation NRIs' (Non-Resident Indian) offspring visiting India. It coincided with her trip to India and she casually put together a video of sights and sounds for the brand.

I also learn from Saloni how her generation of South Asian dancers is inclusive and mutually supportive of fellow dancers. She feels that there has been a mind-set shift from competition to co-existence. There is a realisation that there is space out there for all to thrive: 'there doesn't have to be just one face, but there can be fifty faces representing Indian dance' she states. 'Woke culture is creating change and dancers and artists are standing up for their rights'. It is refreshing to hear the word 'woke' in a positive light, since we  regularly hear politicians use the word 'woke' as a term of abuse. Saloni is suggesting that greater awareness of dancers' rights with regard to wage and working conditions is improving the lot for all dancers. The quick diffusion of information on-line is serving the interest of dancers, in her opinion. But equally she admits that there is little space for a nuanced debate and that a single politically incorrect statement can result in an avalanche of abuse and she herself fears ostracism and 'cancel culture'. 

Saloni will be leaving shortly for Mumbai to follow her second occupation which involves commissioning NGOs to fulfil the CSR (Corporate Social Responsibility) programmes for a steel factory in Wardha that has adopted surrounding villages, working with women and girls in the area of sexual and reproductive health. Saloni feels close ties to India – her family have kept up annual and even biannual visits to Kolkata.

So what is the secret of Saloni's success on Insta, so that her follower numbers equal that of some established performers with much bigger performance profiles? She has youth and beauty on her side; she is of the generation that understands the medium; her digital skills are sophisticated and she has an interesting life with varied interests. But by her own admission chance played a significant role – it was not kathak that brought the followers, but the attraction of 'fun-dance', the wedding dance video which went viral.  Everyone dances at a mehndi – it's not the preserve of a professional. However once the 16K followers see Saloni's kathak reels, there is a chance they will open up to this classical form. So Insta may after all bring punters through the doors. The payback for Saloni would be fuller houses at her performances. Time will tell if Insta followers equals higher audience numbers. However even that may be an old-fashioned way of looking at 'audience', as surely the viewers on 'reels' are also an audience.