Kalki
Kalki
Pushpalata Dance and the Centre for Classical Indian Dance (CICD), Leicester,
Saturday 11 November 2023,
Vishwa Hindu Kendra, Southall
Reviewed by Bina Patel
Photos: Gordon Chen
The collaborative piece between Pushpalata Dance and the Centre for Classical Indian Dance (CICD), led by artistic directors Priya Pawar and Nilima Devi, culminated in the production titled Kalki. Blending the ancient narrative of Kalki from Hindu mythology with the urgent queries echoing in today's tumultuous world, the performance stood as a poignant testament to the enduring relevance of myth and symbolism in contemporary times.
This final performance of their autumn tour was part of a Diwali programme held in the Vishwa Hindu Kendra Temple, Southall. The audience was a cross section of all ages and backgrounds, one of the wonderful aspects of community- based performances. 
The programme started with all the performers on stage entering to the verse from the Gita 'Yada yada hi dharmasya glanirbhavati Bharata', sung beautifully with Viswa Prakash's sonorous voice. The dancers, dressed in traditional lehenga-cholis or salwar-kurta in shades of blue, entered silently with no gunghroos, standing still. Then, as bird song is heard, the dancers smoothly transition into poses aligning to the ten incarnations of lord Vishnu whilst Nilima, with her gentle voice, describes how birds can sometimes sing for the sake of it and sometimes to recount a story, just as classical Indian dancers do. Kathak comes from the word kathakar – 'storyteller',  and they were there to tell us a story.
The music played a pivotal role, carrying the show's structure and pacing. The hauntingly evocative sarangi played throughout the dialogue. Intertwining poems from Jayadeva's Geet Govinda interpreted through the dances of kathak and elements of odissi and spoken narratives through personal conversations between Priya Pawar and Nilima Devi, the performance effectively relayed the story of Vishnu's ten avatars and included snippets from the Ramayana in relation to modern times and themes. 
This blending of narrative elements and dance performances showcased a seamless fusion of storytelling mediums, adding an informal and personal touch to the show's progression, connecting the audience to the performance on a more intimate level.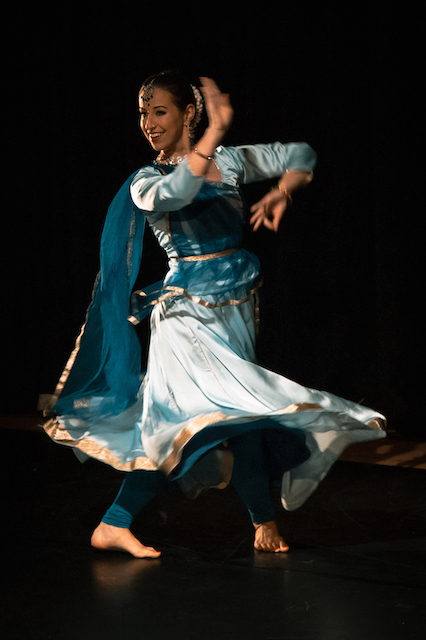 Technically and artistically, the dancers excelled, delivering superb performances. Their clean lines, nimble footwork, and adept storytelling abilities ensured the seamless conveyance of the narrative. Kinga Malec's portrayal of Jatayu was particularly beautiful to see. Also noteworthy was her depiction of Narashima, showcasing the kathak style's interpretation with precision, expression, and a blend of grace and power. Kali Chandrasegram's commanding yet graceful style was a joy to watch, and Maria Scialdone's outstanding performance added depth and symmetry to the group pieces, all displaying remarkable coordination and synchronisation while maintaining their individual personalities.
The podium style stage was relatively small and there was no dedicated lighting set up – only the lights of the main hall. Despite limitations in the performance space, the dancers managed to navigate these constraints skilfully, showcasing their adaptability and professionalism.
Overall, the performance elements worked, captivating the audience, and eliciting spontaneous admiration through traditional applause between dances or tihais.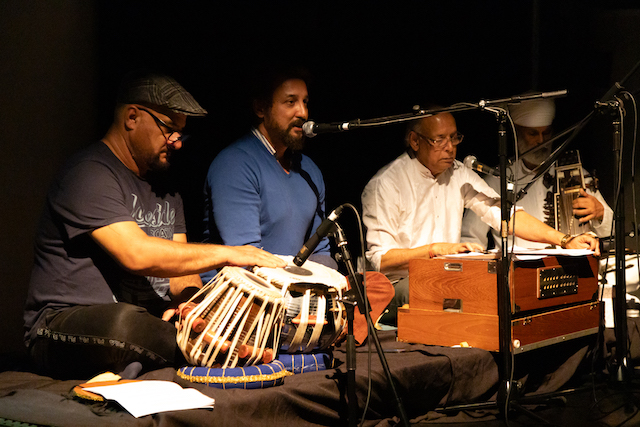 The music provided by vocalists Vishwa Prakash and Ustad Obaid Jund, tabla player Ustad Yusuf Mahmoud and Ustad Surjeet Singh on sarangi was wonderful. 
It being Diwali, the lasting feeling was that of light over darkness and that there is hope.
Production credits: 
Artistic directors: Guru Priya Pawar, Nritya Varadhi in Dance; Guru Nilima Devi
Music direction Pandit Vishwa Prakash
Dancers
Guru Priya Pawar, Nritya Varadhi in Dance  
Guru Nilima Devi, MBE  
Kali Chandrasegaram
Kinga Malec
Maria Scialdone
Musicians
Ustad Obaid Jund – Vocals
Ustad Yusuf Mahmoud –Tabla
Ustad Surjeet Singh – Sarangi
Producer: Lise Smith
Bina Patel studied odissi dance with Priya Pawar and Guru Harekrishna Behera at The Academy of Indian Dance (now known as  Akademi).
She has performed in several countries, theatres and on television.