Arya: A Concerto for Sitar and Orchestra
Jasdeep Singh Degun with the orchestra of Opera North
Conductor Harish Shankar
11 March 2020
Royal Northern College of Music, Manchester
Reviewed by Matthew Pritchard
Photos: World première at Huddersfeld Town Hall. February 2020
Credit Justin Slee
More than a century ago, in his essay "Sangit" (1912), Rabindranath Tagore remarked that amid a host of more superficial differences and similarities between European and Indian music there existed "one fundamental point of difference" – that between harmony and the raga system, which he interpreted in philosophical terms. "Europe has concentrated its attention on the side of variety, we on the side of unity… Harmony shows us through its voices the great, manifold, dancing activity of the cosmos. But at the centre runs a single song of a single raga." Though this difference was profound, it was not insuperable. Tagore believed that "the time has come to bring together [Indian] melody and [Western] harmony". His announcement may have been premature then, but with works such as Jasdeep Singh Degun's new sitar concerto Arya we can begin to talk of a belated fulfilment of Tagore's vision.
Arya, whose title suggests not only nobility and something "precious" or jewel-like but also a pun on another Western musical form (the operatic aria), does indeed keep melody to the fore, but integrates it with a contrapuntal weave of lines enhanced by the orchestral arrangement of Daniel Saleeb. The first movement demonstrates this most extensively, with a jhaptaal melody in Jogkauns winding through a texture that broadens from a delicate bassoon counterpoint to the full string section. From here the orchestra withdraws into the background, as a more static section gives the sitarist space to explore an impressive variety of meend. Canonic imitation in the orchestra forces a build-up to another lyrical climax, reinforced with tubular bell and timpani accents. The overall effect is of a stately, cumulative structure, inflected by lyricism without being overtly romantic.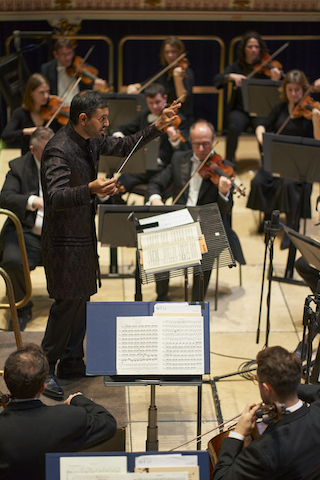 The second movement, based on rag Gujri Todi, began in a minimalist vein with an uneasily rocking viola figure, before abrupt crescendi introduced a busy texture, showing a delight in rhythmic play that kept both orchestra and audience on the edge of their seats. The longest "cadenza"-like section in the work followed, a five-minute solo in which the sitar moved through invigorating jhor and jhala leading up to the most striking moment in the entire work – the re-entry of the orchestra with dramatic, offbeat chords, all the more effective for being long postponed. Arya's last movement, a version of which (incorporating tabla) can be heard on Jasdeep's upcoming album Anomaly, returns to the tempo and finally to the opening bars of the first movement. Here the gently cycling harmony uses a minor chord (for the subdominant, matching the komal Dha of rag Charukeshi) whose periodic brightening into the major feels like a beam of sunlight thrust into a moody Yorkshire landscape. 
Jasdeep has spoken persuasively about his aversion to familiar "fusion" labels, with their all-too-frequent implication that classical traditions (Eastern or Western) are merely something to be "transcended" in the interests of a "freer" syncretic approach. Arya feels instead more like a "bridge", to use the title image of its composer's earlier work for sitar and string quartet (premiered in Leeds in 2016) from which the present work develops a number of ideas. Constructing such a bridge takes careful, patient work on both sides – and the bi-musical training Jasdeep possesses to sustain that work. But that does not mean that works like this will always be "one-offs", isolated experiments or showcase projects. There is vital expressive potential in the dialogue between Indian and Western classical idioms, and it is urgent – at a time when politics is building cultural barriers rather than bridges – that we recognize the importance of that potential to the development of both traditions in the UK. Confronting and exploring these challenges, rather than copying the insular, monocultural experimentalism prevalent at too many avant-garde music festivals, is surely a central role for young composers in Britain today. Arya must be the beginning of a new phase of exploration.