Breaking Ground
Breaking Ground
Sonia Chandaria Tillu and Sampad
Foyle Studio, mac Birmingham
30th November 2019

Reviewed by Magdalen Gorringe
Photos by Matthew Cawrey
 
30th November saw the premiere of Breaking Ground, a new dance work conceived and performed by Sonia Chandaria Tillu of Sona Lisa Dance Company, commissioned by Sampad and choreographed by Urja Desai Thakore. The evening included two other works – Namokar, and a preview of Agraha (choreographed by Jose Agudo). Tillu has arranged the pieces so that the audience is taken on a journey as the evening progresses from a celebration of classical kathak (Namokar), through an exploration of kathak vocabulary used to explore themes, and to respond to music, beyond the classical canon (Breaking Ground), concluding with Agraha, which pushes kathak to its limits and beyond, incorporating elements of flamenco and Western contemporary dance.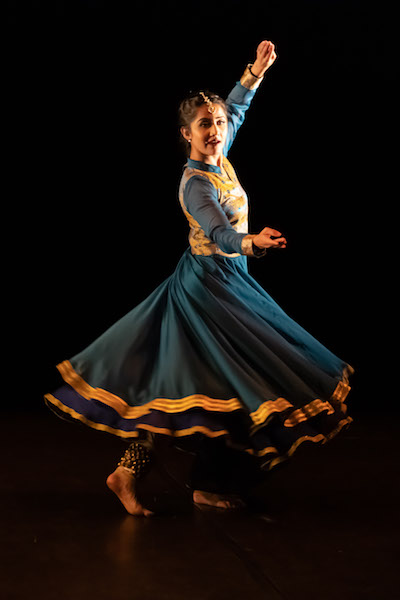 Namokar
Tillu is a compelling performer, bringing to the elegance of kathak a distinctive panache. Namokar brings together a wealth of talent, including the superb musicianship of Kirpal Singh Panesar (Esraj), Debipriya Sircar (vocals/sitar) and Anuj Thaker (tabla). It was a particular treat to hear Panesar's solo on the Esraj, an instrument not commonly encountered in the U.K. After a short, danced prayer, the piece took the format of a number of short abstract sequences, whereby, in accord with kathak convention, Tillu first recited the rhythm pattern of the sequence to be danced before performing it. Her execution combined passion with precision, softness with rapid fire spins, a performance lifted by the warmth of her rapport with the musicians. The understanding evident between Tillu and the padhant, her fellow kathak dancer and peer Jaina Modasia, deserves a special mention. Modasia recited the bols with a command, confidence and constant alertness to Tillu's movements in an example of peer support that bodes well for the future of South Asian dance in Britain.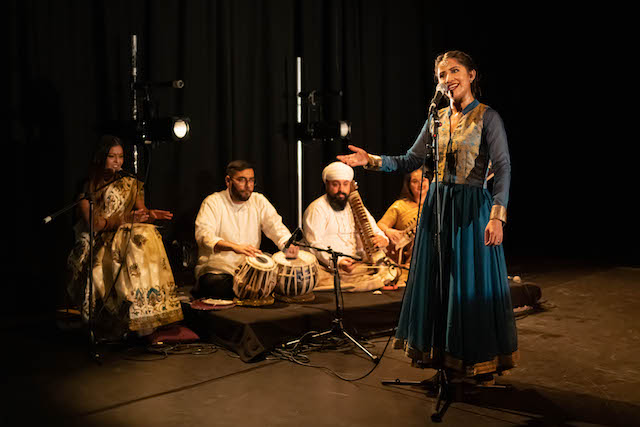 Breaking Ground, choreographed by Thakore to a specially commissioned score by Shammi Pithia follows the journey that so many have made from India to Kenya and finally to the U.K. An abhinaya depiction of life in India, so vivid that one could almost smell the roti cooking, conjured some of the reality of the life left behind for the new rhythms of Kenya. As Pithia's score changed to embrace the soundscape of East Africa so too did the movement, as Thakore layered Tillu's movement with a Kenyan sway. The rapid spins that asserted control in Namokar, in this piece signalled the opposite, a careering out of control in the desperation of a second uprooting. There is a lot in this piece – the poem composed by the Lantern Meet Foundation (Kampala, Uganda) in itself offers scope for a whole series of pieces (Just one line, for example: 'All the fear I had in the beginning now returns in younger minds'). The narrative ends with the arrival to Britain, preventing an exploration of the distinctive nuance to sound and movement scape occasioned by that arrival, which seems a pity, though this is arguably exemplified in the final piece. Nevertheless, Thakore, Pithia and Tillu have united in this work to poignantly and accessibly convey a story that will resonate with many.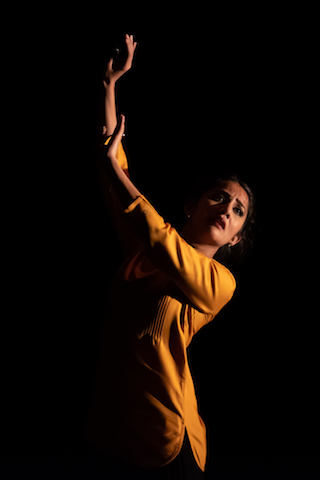 Breaking Ground
The final piece Agraha (or holding firmly onto) takes as its inspiration the life of Aruna Asaf Ali, 'one of India's unsung woman freedom fighters'. Choreographed by Agudo, with a score by Bernhard Schimpelsberger, the piece moves through three key periods of Ali's life – her early life, her political activism, including her involvement with Mahatma Gandhi's satyagraha movement, and her final years. The gentle unfurling of the beginning of the piece builds to a forceful ferocity as Tillu stamps out flamenco rhythms with the same tenacity that Ali exhibited in her activism. This piece was performed as a preview – still, as Tillu put it herself, in a fairly 'raw' state, and I felt there was scope for Tillu to layer the movement vocabulary with a deeper sense of Ali's emotional narrative. Once 'bedded in', with Agudo's clear structuring and imaginative use of vocabulary, this promises to be a powerful piece, and a fitting tribute to a forgotten heroine.
My main gripe with the premiere as presented was that each of Breaking Ground and Agraha were followed by Q and A sessions with the choreographers, composers and finally with Tillu herself. While I understand the rationale behind this, for me this broke the flow of the evening – and I would preferred to have seen these sessions grouped as a single Q and A session for those interested after end of the performance 'proper' – an arrangement which would also have helped those of us heading back for trains or babysitters. This is a management gripe however, and not a reflection on the work itself.
Breaking Ground offers three very different pieces, each contributing a different perspective on kathak and on life from a welcome newcomer to the world of professional classical Indian dance in Britain.