Orpheus – Monteverdi and Jasdeep Singh Degun – A Rasika's view
Orpheus
Music by: Claudio Monteverdi and Jasdeep Singh Degun
Opera North
October – November 2022
Guest blog by Sudipta Roy, who is a student of Hindustani vocal music and a Chemical Engineer.
The performance is available to watch here until 30 April 2023
Photo: Tristram Kenton/The Guardian
We live in historic times. In the weeks before this opera was to be staged in Leeds, the changes in monarchy and parliament of this country overshadowed the news of the first ever European / South Asian opera. As a vocalist and a student of Vijay Rajput, one of the featured artists, I had received the news of the concept and its gestation.
Asian British and Musical Culture: I am a first generation British Asian. My musical roots were put down in India when I was perhaps three or four years old. An early start to music in India is (or was) common. My parental hope was that we would pick up a few songs (Rabindra Sangeet, as I am a Bengali), learn a bit about our culture, and perhaps appreciate some of the more profound meanings of Tagore's songs. This is generally the ambition of the Bengali diaspora worldwide who were uprooted from their lands in 1943-47. By profession, I am an engineering scientist, and music is often perceived to be very far from a scientist's natural instincts.
The humble aspiration of my parents was not to be fulfilled in the way they had anticipated. My elder sister (who is very musically talented) and I had a teacher who introduced us to raga structure, and we both understood that raga, sur (pitch), tala (rhythmic cycle), chanda (metre), dance and theatre formed the essence of music. Hindustani classical music, in particular, demands one to be a composer (or at least an improvisor) and compositional ideas too, are sown early. My sister and I were singing alaaps during our early teenage years. 
We continued until I entered University, I travelled overseas. For the next twenty-six years I sang in the shower, I sang to the sun, I sang in bed. In Sanskrit there is a saying prachanna guptam dhanam, 'a hidden treasure which is within you', and no one can take it away. In 2007, I went to a recital by Rajan (late) and Sajan Mishra, which led to the rekindling of the musical embers, and it was my non-Asian husband who found about Vijay Rajput – so my journey restarted.
Opera has always fascinated me. Indian musical theatre is very rich both in folk and classical forms. Within folk art, there is the Bengali Jatra, the Nautanki in large parts of Northern India, Marathi Sangeet Natak (musical theatre) and chhau from Eastern India, to name a few. Classical dance forms such as odissi, kathakali and bharatanatyam mostly tell mythological tales, or those from the epics. And abhinaya ('expression') is an integral part of dance. Sangeet, as defined in the Shastras (treatises), is the combination of gayan (vocal music), vadan (instrumental music) and nritya (dance) forms; hence the South Asian imagination may be receptive to operatic forms. My first opera was La Bohème, which I saw in Stockholm. This led me to seek out other operatic composers and genres, such as La Traviata (Verdi), Einstein on the Beach (Glass) and Kabuki (Japanese opera).
Opera North, Orpheus and Monteverdi: Over the years, I have supported Opera North through their various productions – the most memorable being Wagner's Ring Cycle which was presented at the Sage, Gateshead, over four years. The news that Opera North was producing Orpheus, therefore, was received with much anticipation. I am not tutored in the Classics, and had to find out about Orpheus and Claudio Monteverdi from Wikipedia. The fable of Orpheus is the Journey to Hades (the Underworld), where the spirits of the dead reside. Orpheus's beloved Euridice dies on the day of their nuptials, due to a snake-bite, and Orpheus promises to do the unthinkable – to bring her back to the land of living mortals. Orpheus, who is musically gifted, wins her soul back through his music.
Hindu Mythology: Interestingly, this story is somewhat parallel to the tale of Savitri from Indian mythology, told in the Mahabharata. Savitri married Satyavan in a swayamvara (where the woman chooses her own husband). She is already informed that he has exactly one year to live, but she believes she can save him from this destiny. When Satyavan dies a year later, Yama (the God of Death and Ultimate Truth) comes to collect his soul. Savitri follows Yama to the doors of his kingdom and wins Satyavan's life back – through her knowledge, intellect and debate. There is another story in the Samaveda, of a precocious child called Nachiketa, who has a long discourse with Yama to learn the nature of Life and Death. Neither of them uses music to charm Yama, but they use love, compassion and wisdom to achieve their goals. So, the story of Orpheus has parallels with Hindu mythology and philosophy.
I was interested by the question 'Why Monteverdi?' Monteverdi's Orpheus dates from 1607 and is the earliest opera still regularly performed. He uses emerging vocal styles characterising the end of the Renaissance period. As a prelude, I went to see Christoph Willlibald Gluck's composition Orfeo ed Euridice the night before (which was also an Opera North production). The opera opens with a chorus lament because Euridice is already dead. This makes the entire story darker and more sombre, but upon losing Euridice a second time by looking at her, she is restored to Orpheus by Amore, so that love can live forever. The triumph of love over death is the message, which is a change from the myth. In the latest Opera North Orpheus the start and end are different – it opens with the wedding between two lovers Orpheus and Euridice, which is positive. The end too is positive, in the sense that one has to accept that Euridice has passed to another world and this is as it should be. Accepting this and moving on in life is the noble ideal – which also chimes with Hindu philosophy.
Production: It was fascinating to see and hear the production and musical genres used. The stage production was excellent – and the set resembling a Bollywood wedding in a suburban English environment was beautiful. The seating of Indian and Western musical instrumentalists was also novel, and was a pleasure to watch, because one could see the rapport between the singer (or chorus) and the instruments. The production of Act II could have been more sombre, but that is a minor detail.
Musical Genres: The opening fanfare and the two female vocalists told the audience what was to come – operatic and South Asian styles – set together. I particularly liked the idea that it would not be a fusion of the genres, but a pleasurable blend. Audiences familiar with South Asian classical music would have noticed different styles presented: there was Carnatic and Hindustani (both vocal and instrumental), semi-classical genres such as thumris and gurbanis; dazzling taans and sargams were the icing on the cake. Beyond this, it seemed that each character singing in the South Asian style had a special raga allocated to them, which was reminiscent of Wagnerian leitmotifs. Then there were the myriad languages: as well as Italian, we heard Hindi and Urdu, Malayalam, Bengali, Punjabi and Tamil. South Asian audiences could feel a sense of belonging.
My feeling, overall, was that we are at the brink of something new and exciting, of which we had a taster. The collaboration between Leeds College of Music and Opera North has been as equals and transcended the usual barriers. That classical opera and South Asian classical music had the power to come together and create a new form – with new librettists, composers and musicians – means that we are starting on a new musical journey. Perhaps this conversation and dialogue will give birth to a new genre. That I have had the privilege to see the seeds of this new form is amazing, and to see them germinate and grow will be even better.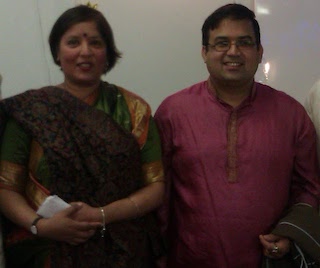 There is a further performance on 19 November at The Lowry, Salford.
Orpheus is available to watch on Opera Vision (YouTube) until 30 April 2023.