Overseas Sangeet
Overseas Sangeet
11 December 2022
The Bear Club, Luton
Reviewed by Bhavdeep Soor
Photos: Sanjeevini Dutta 
On a chilly evening in Luton, we were invited to a cosy South Asian music and dance showcase in  the intimate setting of jazz venue, The Bear Club. Welcomed into a converted factory space, with striking red lighting, and dazzling fairy lights, it was already clear we were in for a warm and  informal evening. 
All of the instruments, laid out ready in the spotlight, were about to be reunited with their  musicians. Hosted by Pulse and Kadam Dance's Sanjeevini Dutta, we were introduced to our performers for the evening. The name 'Overseas Sangeet' was explained by Moa Danielson on santoor: as friends are leaving on a boat, they do not know how the winds will be, but  being with each other puts them at ease. She then relates this back to their current situation on stage. Debasish Mukherjee (tabla) joined us from India and Sanchita Pal (vocals), born in India, has lived in the UK since 1994. Moa, alongside Norwegian sitarist Stian Grimstad and Veronica  Tjerned (kathak dancer) all travelled from Sweden, as members  of Stockholm Sangeet.  
The first set started with Debasish's enthralling tabla solo in teental accompanied by a nagma (repetitive refrain) provided by Stian and Moa. This was an eye-opening opportunity to hear the build-up and development of the tabla's timbre, where pitches overlap and deeper pitches echo for impact.  Decorated around the nagma, it was a gentle yet mesmerising piece with which to settle into the evening. Around the venue,the audience nodded their heads as a meditative circulation of rhythms gained richness and intensity, gradually embellished with powerful tones that transitioned into a new rhythm. Every tihai' was exhilarating, establishing the companionship between the musicians as they face the winds together.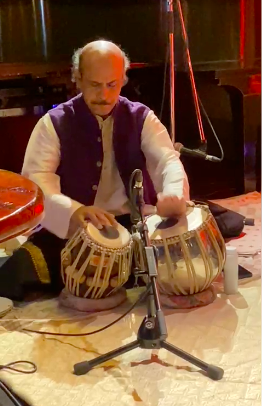 Next was a composition in Raag Madhuvanti dedicated to sitarist Ananda Shankar. Separated into  beat cycles of 16-14-16, Stian and Moa re-entered the journey. The alaap consisted of vibrant  skipping sequences but kept a contemplative mellowness. The interactions between the santoor and sitar were delivered with great fluidity. As the santoor distantly answers the calls of the sitar, it  gives the audible illusion of distance as soft and sustained tones weave around one another. As Debasish enters, a new heartfelt conversation begins again between friends. Then, the climax  approaches and we can hear Stian's Shankar influences (we had been told earlier that he was taught  by one of Ravi Shankar's students, Gaurav Mazumdar).
Sanchita Pal treated us to a passionate Bengali vocal performance of a composition by her guru, Pandit Ajoy Chakraborty. Sanchita carried her vocals with steadiness and ease. As notes hit higher pitches, they became gently more accentuated. As the lyrics travelled down many different melodic routes, they took on different shapes and emotions. Debasish provided the structure, pace, intensity and depth. As blissful melismas were projected, an audience member sat with eyes closed, meditating on the longing nature of the piece. 
To end an already enchanting evening, Veronica Tjerned provided an elegant  kathak performance. With accompaniment from all four musicians, this truly showed the unity of these outstanding performers. Despite the limited space, Veronica used it to its fullest potential, twirling  with precision. She wore a focused expression yet it was also one of freedom. Circular and  flowing movements complemented the vocals of Sanchita. Call and response was like watching  an exciting game of 'pass-the-parcel' from santoor and sitar, to vocals, to tabla and then to the  dancer. I have never witnessed such a detailed sequence before. Syllables and steps became  increasingly minimal but more powerful in the process. 
This event certainly lived up to its name, where we watched as five friends embark on a journey in  which the winds were unpredictable but by working together they could create something  beautiful. From beginning to end, the movement of emotions and bonds between the performers was felt by the audience, who were part of this journey too. 
Bhavdeep Soor is a recent graduate in music journalism from BIMM Birmingham. Amongst her interests are learning sitar and the gaming industry.